Latest Consumer Price Index from the CSO.
As one contagion fades, another looms. This one is inflation and has the same infectious capacity as Covid. Unlike Covid it is not amenable to lock downs and there are no known vaccines. 
The attached graph shows that prices were pretty stable up until 2020 when the CPI began to move up. As of last month the index was 5.5% higher than in December 2020. (But for the year as a whole the increase was 2.4% on 2020). 
As can be seen, leading the charge were prices for energy which are a large part of the 'housing, energy' division, and 'transport'.  In fact of the 5.5%, 'energy products' accounted for 2.6% points. But of course transport costs affect everything to some degree.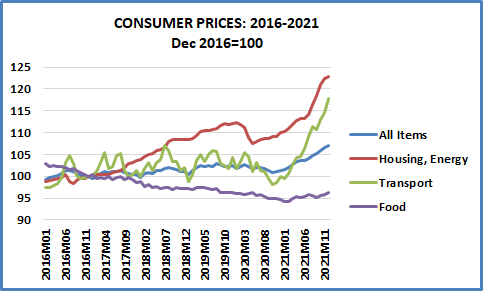 Many economists think that the current surge will fade towards the end of the year. But many virologists thought the same about Covid. The economists' reasoning is that much of the inflation is due to demanding hitting capacity hitting limited capacity taken out during the crisis. But some think that the problem is more deep seated and is simply a coming home to roost of chickens created by years of expansionary monetary policies and corporate underinvestment. In which cases inflation, like Covid, will be with us for quite a while.