Democracy in Ireland
A lot of  'league ' tables are published by various international organisations such as the World Bank, the UN and some NGOS dealing with comparative levels of corruption, ease of doing business, happiness, democracy and so on. One of the most recent is the Economist Intelligence Unit's Democracy Index. This measures the degree of democracy in 167 countries during 2020. The premiership, so to speak is 23 countries with 'full democracy' followed by 52 with 'flawed' democracy, 35 'hybrid' regimes and 57 authoritarian regimes.
On the whole, democracy did badly in 2020 according to the EIU and the average score fell from 5.44 in 2019 to 5.37 – the worst result since the EIU started the league table in 2006. Restrictions imposed to combat Covid are the principal culprits.
However, Ireland scores well with 9.05 points and is placed eighth behind the five Scandinavian countries, Canada and New Zealand. After that is a scatter of countries, mostly European. The UK is number 16 between Uruguay and Chile. More surprising maybe is the composition of the 'flawed' democracy division. It is headed by France and includes the USA, Italy, Belgium and most other EU member states! There are no prizes for guessing where Russia and China are. But for what it is worth North Korea comes last. Incredibly, it actually has a score – 1.08.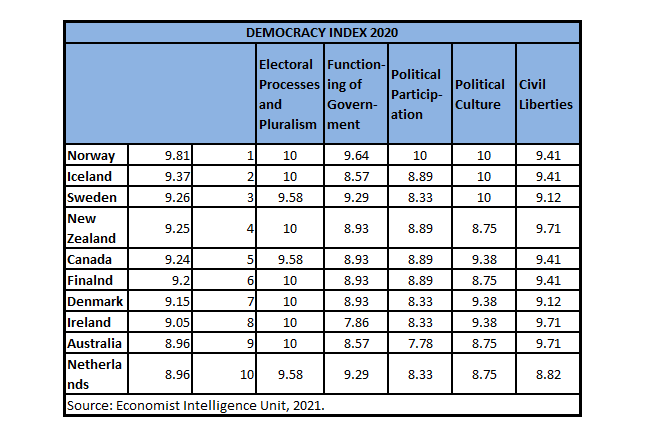 The index is scored on five dimensions. Ireland does well in 'Electoral Processes and Pluralism', and 'Civil Liberties'. But 7.86 for 'Functioning of Government' is quite low by the standards of the premiership. Clearly, high as our aggregate score is, there is room for improvement.