Roundup of Economic Forecasts
The table below gives the latest lineup of forecasts of the Irish economy. Health warning: with the exception of the Central Bank's latest, these are before Omicron put in an appearance. Of course, now that Omicron is fading, maybe they are back on track again! Generally, the Irish public is rather blasé about the performance of the economy. But the picture, whatever forecast is followed, is remarkable.  Ireland was relatively unique in the international economy by coming through the Covid epidemic without a decline in GDP. But is is now going through what is little short of a boom which will carry through to next year.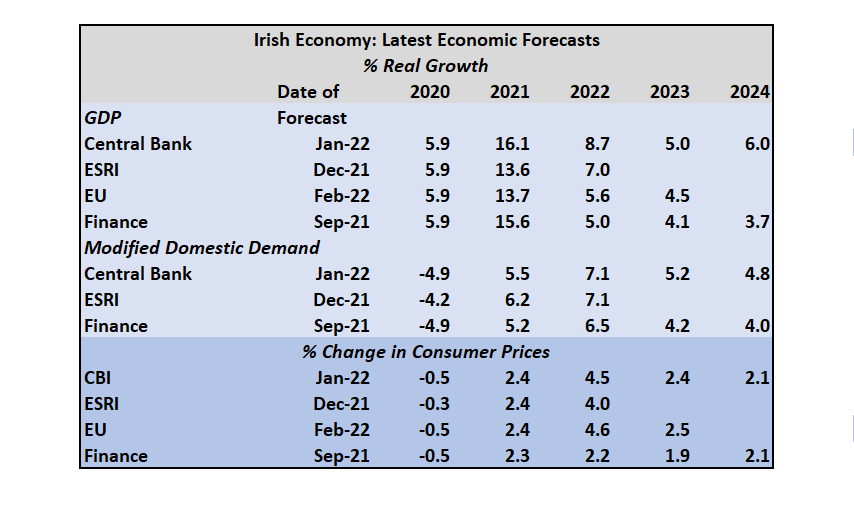 By comparison with the summer crop of forecasts these autumnal analyses show an upward revision of GDP estimated growth. Apparently the Covid-struck 2020 was better than we had been led to believe.
The other salient feature of the new forecasts is the sheer size of the growth estimated for 2021. According to the Central Bank, GDP has grown by a barely credible 16.1% that year – a dramatic upward revision from their July 2021 projection of 8.3% growth.
The qualification to these figures is, of course, that much of it is due to multinationals and domestic benefit evolves at a much more modest pace. One measure of this is Modified Domestic Demand which is now commonly cited in some Irish economic forecasts and is included in the table. MDD comprises consumer spending, government current spending and fixed investment in Ireland. It is a measure of consumption while GDP is a measure of production – a more general measure.
MDD did decline in 2020 but according to the latest forecasts more than recovered that in the current year and will continue growing at a brisk rate in 2022 and indeed into 2024 according to the Central Bank.
The table includes a panel devoted to forecasts of inflation. In the light of the latest data, these look decidedly on the low side. They embody the view, strongly held in the European Central Bank – at least until a couple of days ago – that inflation will start to tail off this year. There is widespread scepticism about that type of scenario.