Rapid Recovery in Jobs Market
Latest quarterly data from the CSO confirms what is widely reported that workers are getting increasingly scarce. The graph below shows data on the share of the eligible demographic (persons aged  over 15 for participation rates and 15-74 for unemployment rates) who are in the labour market divided into those at work and those unemployed.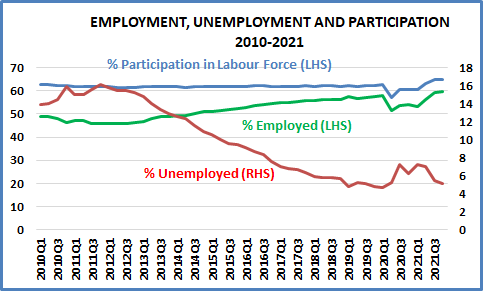 The share of the population working, or looking for work has been pretty constant from the start of 2010, when the economy was recovering from the crash, up to the  outbreak of Covid. Interestingly, the participation dropped during the epidemic but has been recovering since early 2021 and is now higher than in 2019. 
The share at work has shown a long term increase from 50% in 2010 to almost 60% in 2019. Since then it followed the same pattern as the participation rate. It too is now higher than before the Covid epidemic and numbers just over 2.5 million compared to 1.9 million in 2010. 
The red line shows a dramatic fall in unemployment  since 2010 up to the start of Covid when it was only 5% – a very late rate historically. Following a surge during the crisis it is now nearly down to its pre Covid level. (It should be noted that this definition of unemployment does not include people on PUP. If they are counted as unemployed, then the rate is higher by about 3%-3% at present but dramatically down on the 27% recorded a year ago.) compared to 1.9 milli